West Hills United Program Description
We participate as a club in Calgary Minor Soccer Association (CMSA) Soccer League for Tiers 1 – 5, both Indoor and Outdoor.

Our members are part of different events such as team practices, Academy sessions and CMSA organized games.

The Academy training program is developed and directed by our lead Technical Directors, Gerardo Sosa, and Dani Vanee.

All our teams receive Academy training, the frequency is depending on the level Tier 1-3 weekly, and Tier 4-5 will have 6 sessions in the season.

All indoor technical training programs are held at Calgary West Soccer Centre and Calgary East Soccer Center and our outdoor season is run at Sirocco Fields.
Goal Of Our Program
One of the most important goals is to provide a service that keeps the players engaged in the game, we want to develop players that are looking forward to attending every event of their team, either a practice, a game, or a social event with their teammates.
What we do to achieve this?
By preparing our players to be competitive working in their technical skills, game understanding and awareness; this will make them enjoy the time that they will spend on the pitch playing the game. Our Team coaches are provided direction and guidance on the West Hills United curriculum and game philosophy. For curriculum details and our information on our player pathway please check our program guide.

We promote a comfortable environment where each player feels safe, valued and part of a group of players who respect each other and work together to achieve their common goals.

Our coaches are prepared to run a fun and educational practice session where the players will enjoy the game meanwhile, they are developing their soccer skills.
U13 $445
Academy for T1-T3 $200
(*Academy optional for T3, but strongly encouraged)
U14-U17 $475
Academy for T1-T3 $200
(*Academy optional for T3, but strongly encouraged)
U19 $425
Academy for T1-T3 $200
(*Academy optional for T3, but strongly encouraged)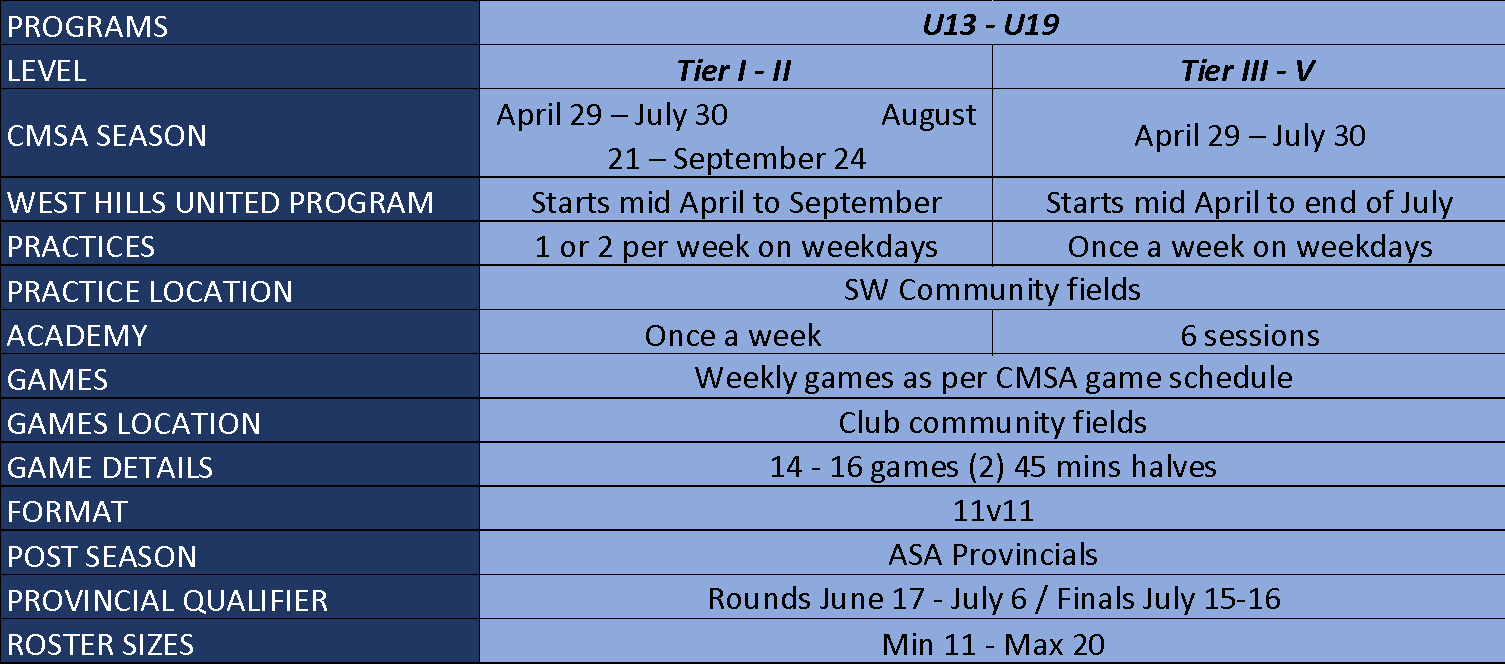 CMSA's Goals of the U14 to U19 League
CMSA's league offering for U12 – U19 includes quality programming for youth at all ages, stages of development, and interest/commitment levels. CMSA welcomes experienced and novice players into any of our clubs to continue or begin their soccer journey. Our U14-U19 leagues operate in alignment with Long-Term Player Development (LTPD) Standards and would be a part of Stage 7 – Community and Competitive.
CMSA advocates for equitable playing time for all players regardless of Tier in these ages. A balance of skill level and commitment should be considered when tiering players. CMSA recommends the following considerations to ensure that players and families are placed accordingly: