West Hills United Program Description
We participate as a club in Calgary Minor Soccer Association (CMSA) Soccer League.

Our members are part of different events such as team practices, Academy sessions and CMSA organized games.

The Academy training program is developed and directed by our lead Technical Directors, Gerardo Sosa, and Dani Vanee.

Goalkeeper training sessions are available to all players weekly throughout the season.
Goal Of Our Program
One of the most important goals is to provide a service that keeps the players engaged in the game, we want to develop players that are looking forward to attending every event of their team, either a practice, a game, or a social event with their teammates.
What we do to achieve this?
By preparing our players to be competitive working in their technical skills, game understanding and awareness; this will make them enjoy the time that they will spend on the pitch playing the game. Our Team coaches are provided direction and guidance on the West Hills United curriculum and game philosophy. For curriculum details and our information on our player pathway please check our program guide.

We promote a comfortable environment where each player feels safe, valued and part of a group of players who respect each other and work together to achieve their common goals.

Our coaches are prepared to run a fun and educational practice session where the players will enjoy the game meanwhile, they are developing their soccer skills.
U7 & U8 $495 
($525 after Aug 31)
U9 $585
($615 after Aug 31)
In addition to the Saturday Match days, practices will be offered at least once per week in local area gyms. They are planned to be held on either Monday or Wednesday depending on final venue availability. Practices will start mid-late October.
Optional Academy fee $340
CMSA players have the option to join in weekly Academy skills sessions, focusing on individual player development.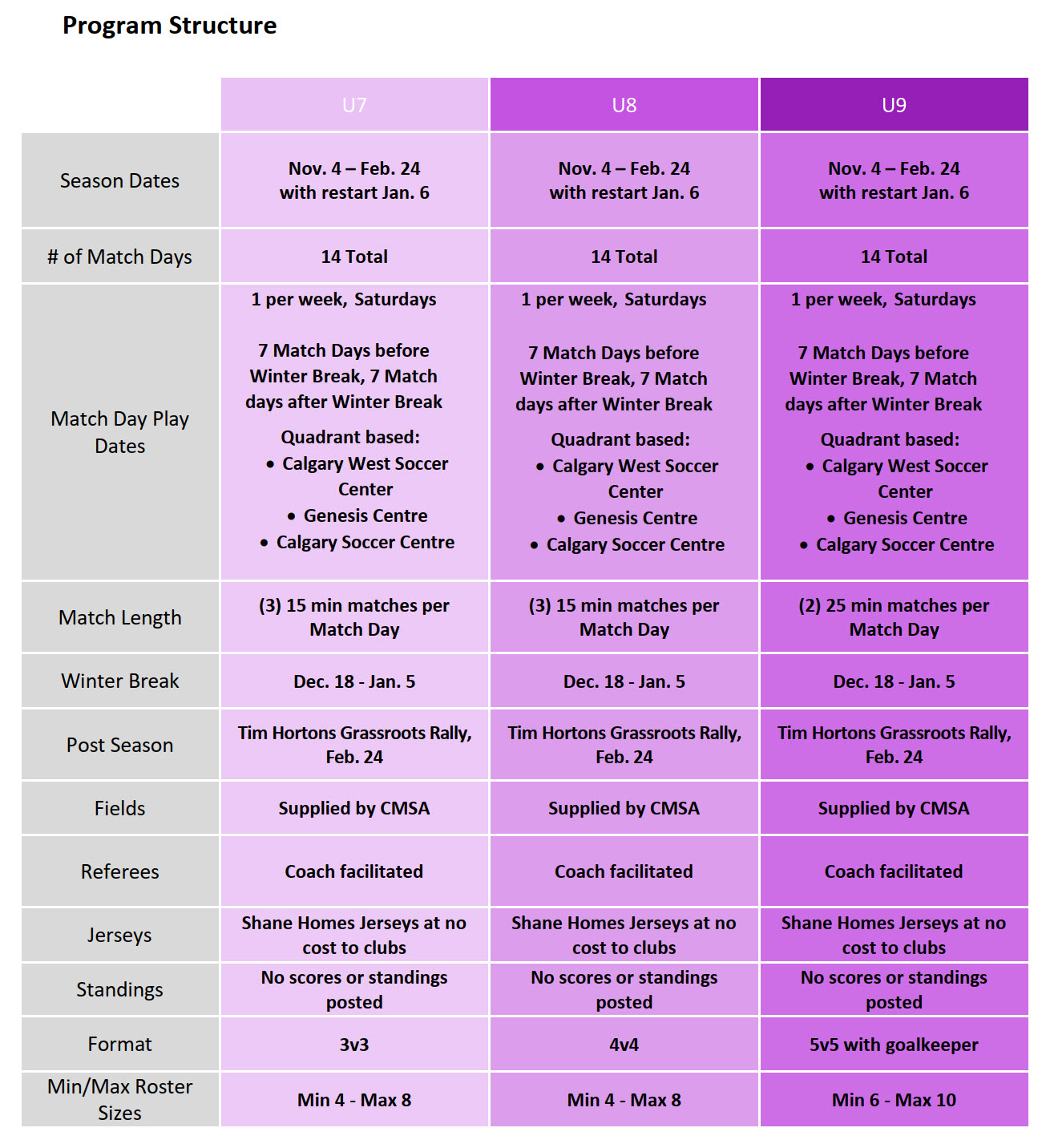 Goals of the CMSA Grassroots League
CMSA's Grassroots League is modelled after national and international best practices and Canada SoccerGrassroots Standards.Theleague strives to provide children with a developmentally appropriate playing environment that allows expression, creativity,and development to flourish. Match Day provides players with more time on the field, more time on the ball, and flexible matchups through an open roster system.
This league encourages mixed-ability (balanced) groupings prioritizing social relationships as the basis of Match Day groups. This allows players to move between groups as required to ensure that each participant has a positive and developmentally appropriate match environment. The CMSA Grassroots League prioritizes enjoyment, so players want to come back next week and more importantly, for many seasons to come!