West Hills United Program Description
We participate as a club in Calgary Minor Soccer Association (CMSA) Soccer League for Tiers 1 – 5, both Indoor and Outdoor.

Our members are part of different events such as team practices, Academy sessions and CMSA organized games.

The Academy training program is developed and directed by our lead Technical Directors, Gerardo Sosa, and Dani Vanee.

Academy skills sessions are mandatory for Developmental Plus teams, and optional for Developmental players.

All indoor Academy training programs are held at Calgary West Soccer Centre or Calgary Soccer Center (southeast).

Goalkeeper training sessions are available to all players throughout the season.
Goal Of Our Program
One of the most important goals is to provide a service that keeps the players engaged in the game. We want to develop players that are looking forward to attending every event of their team, either a practice, a game, or a social event with their teammates.
What we do to achieve this?
By preparing our players to be competitive working in their technical skills, game understanding and awareness; this will make them enjoy the time that they will spend on the pitch playing the game. Our Team coaches are provided direction and guidance on the West Hills United curriculum and game philosophy. For curriculum details and our information on our player pathway please check our program guide.

We promote a comfortable environment where each player feels safe, valued and part of a group of players who respect each other and work together to achieve their common goals.

Our coaches are prepared to run a fun and educational practice session where the players will enjoy the game meanwhile, they are developing their soccer skills.
U10  $585 ($615 after Aug 31)
Developmental Plus+ Academy fee $340
U11  $695 ($725 after Aug 31)
Developmental Plus+ Academy fee $340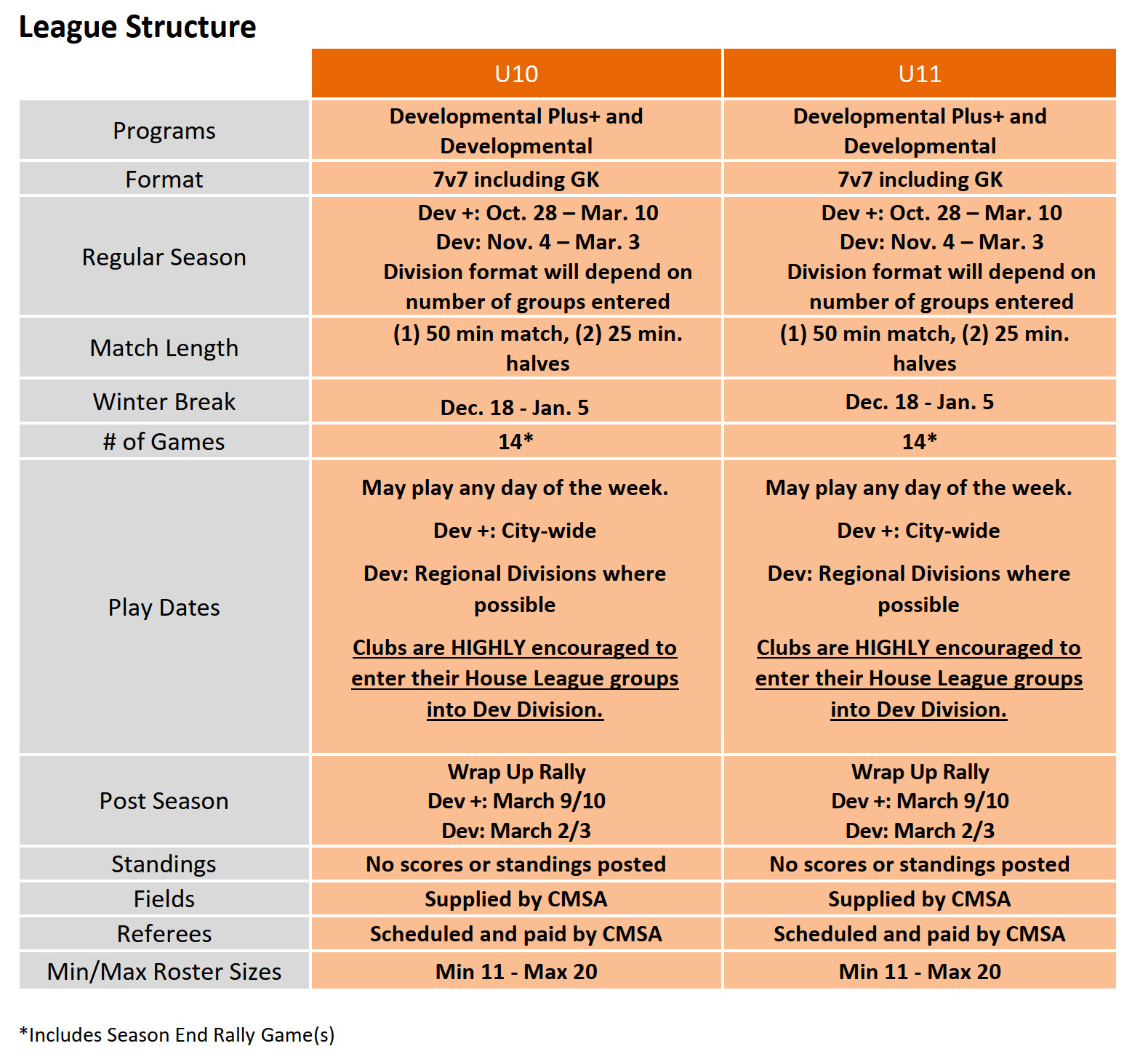 CMSA's U10 and U11 League
About the Developmental Plus+ and Developmental Programming 
CMSA's U10 and U11 League has a 'Developmental Plus+' and 'Developmental' stream. Both streams offer a quality experience for players and their families. Neither stream is purely based on ability but on the needs, interests, and motivations of the child. The determining factors in evaluating whether to place groups in the "Developmental Plus+" or "Developmental" streams are the length of the season and the proximity of their matches. "Developmental Plus+" will play in a city-wide. "Developmental" will have regionalized play. In this player-first model, clubs are encouraged to evaluate players based on their levels of interest and commitment in soccer and utilize social relationships (friendships) as a key factor in forming teams. CMSA advocates for equal playing time for all players and to try all positions on the pitch. No scores or standings are kept in the Developmental Plus+ or Developmental stream.